Welcome - Featured Books
Game Day!
Today in Cleveland Sports History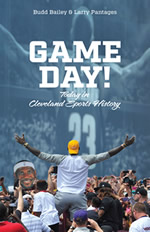 JUST RELEASED!
Given Cleveland fans' passion and dedication to their sports teams, it sometimes seems like every day in Cleveland is a game day. Now, all Cleveland sports fans can feel the thrill of game day every day of the year.
Veteran sports journalists Budd Bailey and Larry Pantages have produced Game Day! Today in Cleveland Sports History, which captures highlights of the thrills, disappointments, surprises, and tragedies that have defined professional, collegiate, and amateur sports in Northeast Ohio over the last 150 years.
This fun book has it all for diehard Cleveland sports fans. For instance, how many fans knew that June 4 held such importance in local sports history? On that day in 1967, 10 nationally known Black athletes (including Jim Brown, Bill Russell and Lew Alcindor) met in Cleveland to show public support for boxer Muhammad Ali's refusal to be inducted into the U.S. military. Then, seven years later on the same date, the Indians' famous promotion, "Ten-Cent Beer Night," resulted in a forfeited game as some fans in the crowd of 25,134 stormed the field and fights broke out with Texas Ranger players.
Take November 6. On that day in Cleveland sports history:
In 1878, the Cleveland Press newspaper reported a decision to join the National League of baseball teams would be postponed because attendance was so small at a meeting to consider the question.
In 1980, the NBA announced an unprecedented decision involving the Cavaliers under the ownership of Ted Stepien -- a ban on making trades after three key players and three future first-round draft picks were sent to other teams.
In 1995, Art Modell stood at a podium in Baltimore and announced the Browns would play home games there beginning in 1996.
Local publisher Cleveland Landmarks Press' newest release provides more than 1200 vignettes of major moments in Northeast Ohio sports history – from the on-field and on-court memories to trades, hirings, firings, and tons of other noteworthy tidbits. The edition provides a daily exploration of the important moments of the Guardians, Browns, and Cavs as well as stories about Northeast Ohio's links to professional hockey, golf, tennis, bowling, soccer, and auto racing. It also features Northeast Ohio Olympians, and highlights of many local colleges and universities, including Kent State University, University of Akron, Cleveland State University – and even Ohio State University.
Game Day! is perfect for Cleveland sports fans who have grown up loving, suffering, cheering, and celebrating their favorite hometown teams and heroes.
more info...
---
Resisting Segregation
Cleveland Heights Activists Shape Their Community, 1964 - 1976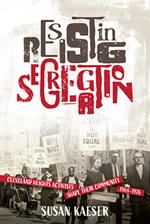 Resisting Segregation documents how Cleveland Heights citizens challenged a seemingly insurmountable social problem: the lack of housing opportunities for African Americans. In 1964, a group of white women, inspired by the national civil rights movement, joined with black citizens – leaders and visionaries – to fight for racial equality and open up Cleveland Heights for all.
Over the next 12 years, community activists lobbied city government to welcome integration and fought federal and state policies, resistant realtors, widespread racism, and hostile neighbors who enforced segregation. They worked as opponents bombed their homes and realtors preyed on homeowners' fears through blockbusting. In the end, they created long-standing organizations and changed city government to forever shape the future of Cleveland Heights. They transformed a virtually all-white suburb into an enduring, integrated community with a vibrant civic culture.
Resisting Segregation is a must-read for anyone interested in the evolution of this unique community and for those looking for a path forward toward greater racial justice.
Produced by local publisher Cleveland Landmarks Press, Resisting Segregation demonstrates how citizen activism works, how people can fight systemic racism, and how our communities can improve with a commitment to racial equity.
more info...
---
Bernie Kosar
Learning to Scramble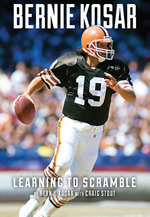 Any football fan knows that scrambling is the way a quarterback can gain more time and more opportunity. But anyone familiar with Bernie Kosar's football career knows he didn't beat you with his physical prowess. Possessing slow feet, an awkward throwing motion and unorthodox mechanics, the kid from tough, blue-collar Youngstown, Ohio did not look like a prototype NFL quarterback. How he beat you – and he beat a lot of people over the course of his college and NFL career – was with a savant-like level of football intelligence and an indomitable will to win.
Chronicling his rise from the hard-up steel town of his birth, to prominence as the leader of the University of Miami's first national championship team, and then to glory in the NFL with the Cleveland Browns, the ride was not smooth and seldom came without a high cost. Kosar's well-documented struggles came largely after his playing career ended, and the combination of physical, marital, familial, and financial issues transcended his uncanny ability to break down "Xs and Os" and ultimately cost him heavily.
Exploring his personal battles, "Learning to Scramble" is an unvarnished and completely authentic account of an extremely talented man's ability to not only learn from his mistakes, but to evolve and develop new ways of approaching life. It's a distillation of what can be done with just a little more time and a little more opportunity – all you can accomplish when you learn to scramble.
more info...
---
All Access Cleveland:
The Rock And Roll Photography of Janet Macoska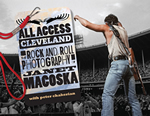 If rock and roll has been the soundtrack of your life, Janet Macoska has likely provided the visuals. Her celebrated body of work can be seen in the Smithsonian, the National Portrait Gallery in London, the Rock and Roll Hall of Fame and Museum, the Grammy Museum, and in Hard Rock properties around the world. This long-awaited compendium of native Clevelander Janet Macoska's 40+ years shooting rock and roll subjects presents many never-before-seen images from Janet's archives—combining iconic imagery with entertaining, behind-the-scenes stories.
more info...
---
The PSYCHOLOGY of COLLECTING:
Everybody Collects Something, YES You Do!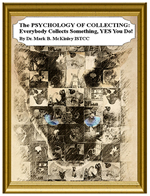 The PSYCHOLOGY of COLLECTING:
Everybody Collects Something, YES You Do!

But what is it that we collect? The book reveals the great variety in people's collecting interests, from the common like coins and clocks and comic books to the exotic like insects and human hair, and even to the bizarre such as mementos from crime scenes.

And why do we collect? Like the "what" of collecting, the "why" is also quite varied. Some do it as a hobby. Others consider it an investment. And many find their life's work in the realm of professional collectors.

In this just-published handbook of collecting tips and advice about the troubles some collectors get into, author Mark McKinley offers a comprehensive-and often amusing-look at the fascinating world of collecting.
more info...
---
Geauga Lake:
Sunrise to Sunset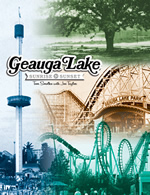 This book traces the story of Northeast Ohio's most famous amusement park. From its quiet beginnings as a picnic grounds in 1872, to its gradual evolution into an amusement park, the story continues through its dramatic climb in status to become a nationally recognized megapark. The narrative also covers its almost inexplicable and rapid decline, leading to its 2007 demise. Copiously illustrated with 150 black-and-white photos and 49 more in full color, the 112-page volume illuminates the changing strategies that different owners brought to the park and captures the many changes that regularly transformed the midway. For those who made Geauga Lake Park an integral part of their summer tradition, the book is sure to rekindle fond memories.
more info...
---
A Higbee History:
From Designer Labels to Casino Tables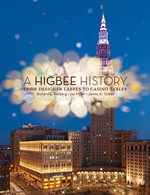 From its 1860 founding as a modest dry goods emporium to its heyday as Cleveland's premier department store, The Higbee Company became indelibly embedded in Cleveland consciousness. Decades of intriguing promotions, sparkling events in the store's 10th floor community spaces, and distinctive dining in The Silver Grille made the Higbee experience memorable. That same classic Higbee energy is still alive, but today it's centered on the beautiful Horseshoe Casino Cleveland, the building's newest tenant. For almost a century Clevelanders have been drawn to the Higbee building, which has been a fixture in the heart of a great city. Relive the memories of years past, and learn about a key piece of downtown Cleveland's newest renaissance. A Higbee History tells the entire story.
more info...
---
Favorite Recipes from Higbee's Silver Grille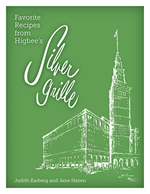 Back in print! Originally included in two books and out of print since 2004, and after many requests for reprints, these recipes from Higbee's fabled restaurant are available once again. This compact cookbook features selections of entrees, soups and side dishes, salads and dressings, breads and muffins, cakes and frostings, and pies from one of Cleveland's most famous restaurants. Enjoy some Welsh rarebit and chicken a la king while remembering heartwarming memories of a time gone by in Cleveland.
more info...
---
Vintage Cleveland II:
More Photographs of Yesteryear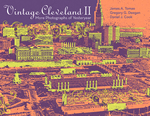 Vintage Cleveland II makes a return visit to historic Cleveland. Its 120 photos review an ever-changing downtown, the twists and turns of the Cuyahoga River, and the bridges which bind the city together. It explores the city's former grand hotels and favorite restaurants, its vanished movie theatres, and the supermarkets of the past. It flies over the city's airports, and takes a nostalgic look at the Great Lakes Exposition that drew millions to the lakefront in 1936-1937. It is sure to revive fond memories of a fading past.
more info...
---
The Peter Witt Streetcars of Cleveland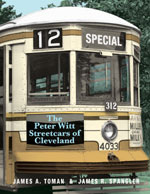 Cleveland was a dynamic leader in many areas at the start of the 20th Century. One such pacesetting sector was its street railway system whose lines crisscrossed the city. Perhaps its most significant contribution to public transportation came in 1915 with the invention of the Car Rider's Car, designed by Cleveland Street Railway Commissioner Peter Witt. Witt's design, to which his name became permanently attached, was widely copied in systems across the United States and abroad as well. Through text and photographs, this book details the seven different series of Peter Witt streetcars that operated in their home city of Cleveland.
more info...
---
East Fourth Street:
The Rise, Decline, and Rebirth of an Urban Cleveland Street
Short in distance but long in memories, East Fourth Street's story has mirrored downtown Cleveland's dynamic rise, decline, and rebirth. Once home to Cleveland's opera house, central markets, and five-and-dime stores, Fourth Street fell into disrepair in the second half of the 20th Century. Yet, the historic alleyway found new life with help of visionary leaders, and now East Fourth Street serves as the center of a chic entertainment and residential district – perhaps the coolest place in Cleveland. Relive the stories and follow the renaissance of an urban Cleveland hotspot.
more info...
---
Founded in Faith:
Cleveland's Lost Catholic Legacy
This reverent book honors the history of the Diocese of Cleveland's closed churches. Through both text and photographs, the book illuminates the great faith that built and sustained these churches. It also describes the role these parishes played in the spiritual and cultural life of their local communities. The book constitutes a great keepsake for all who cherish the rich history of the Catholic Church in Cleveland, Ohio.
more info...
---
A Euclid Beach Park Album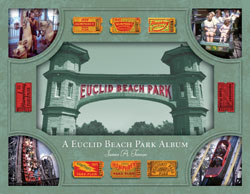 From the Flying Scooters to the Flying Turns, from the Log Cabin to the Laff in the Dark, and everything in between, the scene of Euclid Beach Park is captured in black and white and color photographs, none of which has been previously published. The book is a heartwarming return visit to the place which holds wonderful memories for so many Clevelanders.
more info...
---
View Our Books