James Toman and Greg Deegan
In 1980, it seemed Cleveland didn't have much going for it, community spirit was on the wane, and few books about the city found their way into print. Dan Cook and Jim Toman decided to try to do something about it.
They established Cleveland Landmarks Press, Inc. in that year, its mission to produce books about the city's landmarks and about its key events. The first book was The Terminal Tower Complex, celebrating that landmark's golden anniversary.
Greg Deegan became a partner in the company in 1997.
Over the next three-plus decades, Cleveland Landmarks Press has published 32 books, and we hope Greater Clevelanders and former Greater Clevelanders have found in these books information to enhance their knowledge of the city and to rekindle fond memories of days gone by. Cleveland Landmarks Press remains committed to preserving the history of the city. If you're looking for books on Cleveland's history, you have found the right spot.
In 2007, Cleveland Landmarks Press established a charitable foundation to further its commitment to the City of Cleveland and to the people who call it home. Its mission is threefold, to support:
The work of non-profit cultural and philanthropic institutions;
The initiatives of Cleveland residents who have been referred to the Foundation by a recognized philanthropic, religious, or charitable organization wishing to engage in neighborhood and community improvement projects; and
The preservation of Cleveland history and heritage.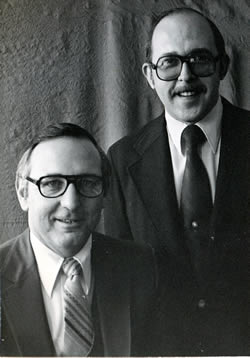 Dan Cook and James Toman in 1980
Chartered in the State of Ohio and recognized by the Internal Revenue Service as a 501 (c) (3), contributions to the work of the Foundation are exempt from taxes as specified by law. Contributions to the Cleveland Landmarks Press Foundation may be sent to the CLP Foundation, 14189 Washington Blvd, Cleveland, OH 44118.
Browse our website. Hopefully you will find a title which will help you, or a perhaps a family member or friend, recall treasured memories: the days of streetcars clanging through Public Square, patrons clinking silverware at The Silver Grille, the hum of shoppers "doing Euclid Avenue," and cheers of Browns and Indians fans at old Municipal Stadium…and many other wonderful things about a great city.
Cleveland Landmarks Press, Inc.
Cleveland Books for Cleveland Memories